Shipping/Returns
Shipping
| Shipping Method | Flat Rate | Delivery Time |
| --- | --- | --- |
| UPS Ground | FREE | 2–7 Business Days - See Map Below |
| UPS Second Day | $16.00 | 3 Business Days |
| UPS Overnight | $28.00 | 2 Business Days |
Free UPS Ground shipping, no minimum purchase necessary. You are responsible for postage on returns or exchanges, however if it is an exchange, the exchange will be shipped to you at no charge.
Allow 1 business day for processing (included in delivery time above). We do our best to get your order processed and delivered as soon as possible, but shipping times may vary based on factors beyond our control.
Weekend delivery is not offered.
We ship to the United States, APO/FPO addresses and Puerto Rico. At this time we are unable to process international orders. Please contact customer service for a list of retailers outside of the United States.
UPS Ground delivery time is based on how far you are located from our distribution center in Maine. Below is an estimated UPS Ground Delivery Map: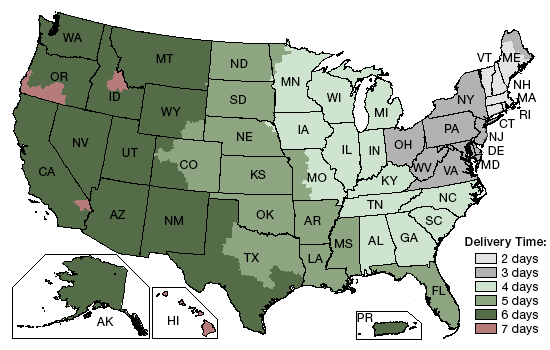 Returns and Exchanges
If you are not happy with your purchase, we will be glad to accept a return or exchange.
You can return unworn shoes for up to 60 days from the purchase date. Shoes must be in the condition you received them and in the original box.
Please send your return to:
Phoenix Footwear
Consumer Returns
107 Main Street
Old Town, ME 04468
For your protection, we recommend you send your return via UPS or insured parcel post. Postage is required on all return packages, however, your exchange is shipped back to you freight free. We are only able to refund freight if the product is defective or a shipping error is made on our part.
Trotters Warranty
Trotters stands by our product and our shoes are covered by a one year warranty against manufacturer defects. If you believe your shoes are defective we will be happy to evaluate them for you. All warranty claims must include proof of purchase and should be sent to:
Trotters
Quality Control
107 Main Street
Old Town, ME 04468
Trotters is not responsible for shipping costs to send item for evaluation. Items that are found to be free of defects will be returned. Please allow 2-4 weeks for completion of this process.
For further information, please contact customer service at custserv@trotters.com or by calling 888-218-7275.